Diederik
Thereís a bright new star shining in Pamís training barn: a magnificent Fresian stallion named "Diederik", or "D" for short. He has the most beautiful head and neck you have ever seen on a Fresian and his eyes will absolutely melt you! Pam is finishing his training to the Grand Prix level and then he has quite the schedule of performances this year, including dancing with Pam in an elegant exciting Grand Prix musical freestyle as well as competing in a grand international joust.
Pam says he is a lover and very exciting to ride.
To schedule breedings contact Pam, or his owner Sheila Wienrich at shielaw@ioditech.com or dreamdancerfarm@yahoo.com or call at 913-488-8399
Enjoy this beautiful photo gallery of this incredible stallion by Jennifer Wilkening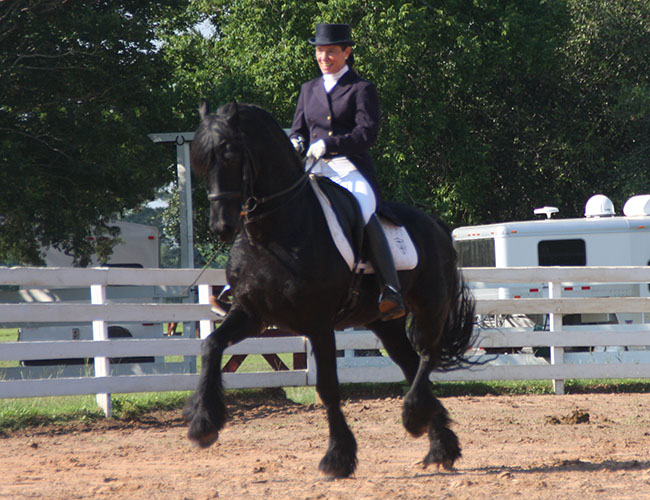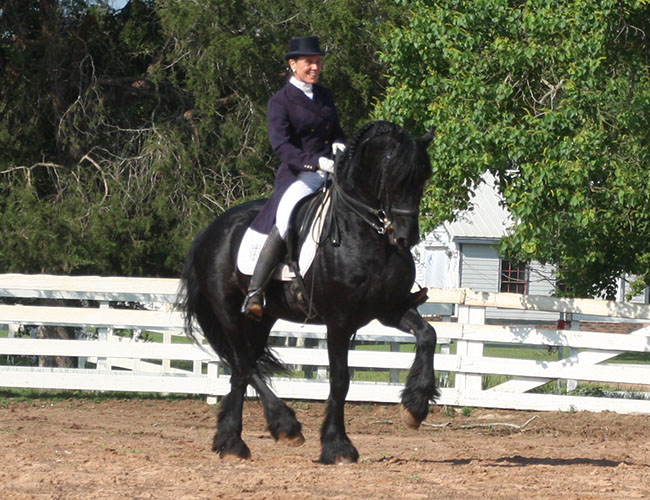 Regalo CCF
Pam is very excited about the young pure Spanish Andalusian stallion "Regalo CCF". The special chemistry between the two of them is evident and they LOVE TO DANCE! Pam says he is a super talent with lots of sparkle, fire and thrilling to ride. Regalo has impeccable sport bloodlines (Hero Mac/Grandadino)
(A quote to Pam from his owner ...) "We deeply appreciate your encouragement , for advancing 'Regalo CCF' & and for all of the beautiful moments of you riding him." Owner Maria Arroyo Master, Carmel Creek Farm, LLC 318-465-9018

Photos courtesy of "Gypsy Wind Photography"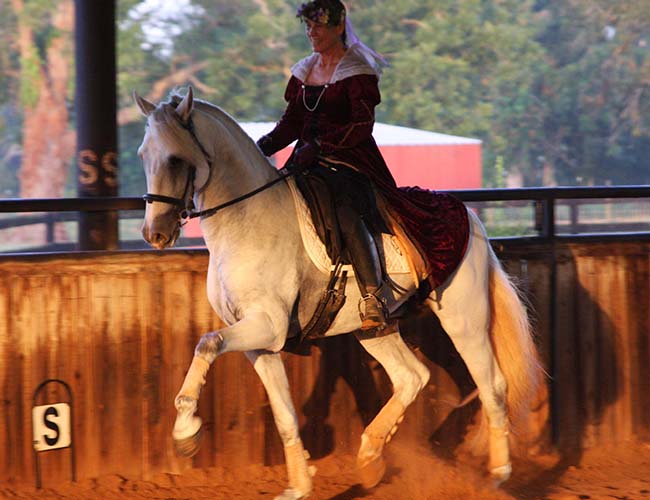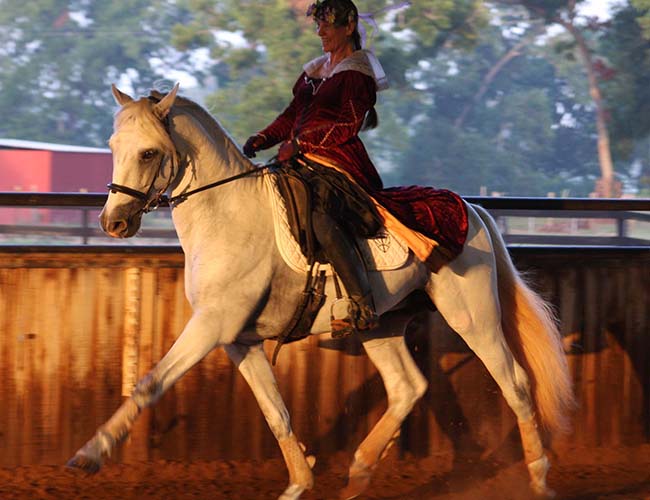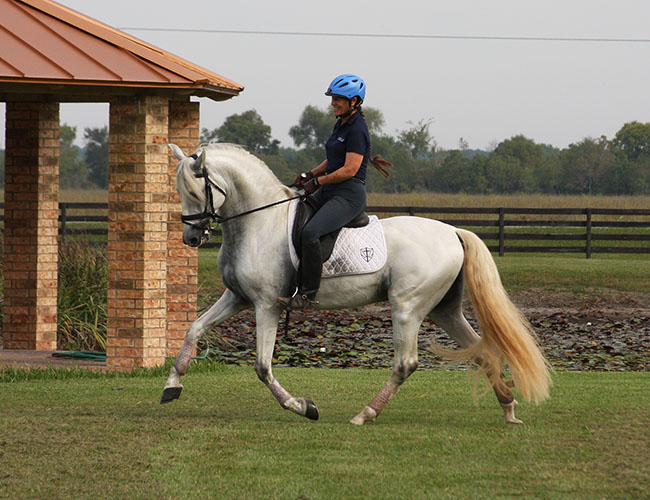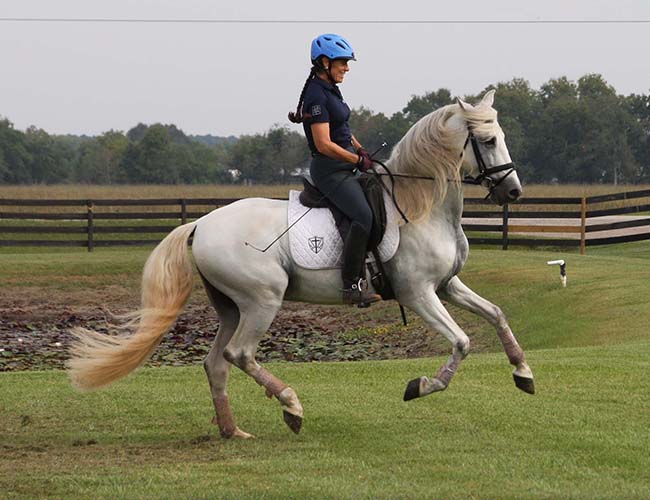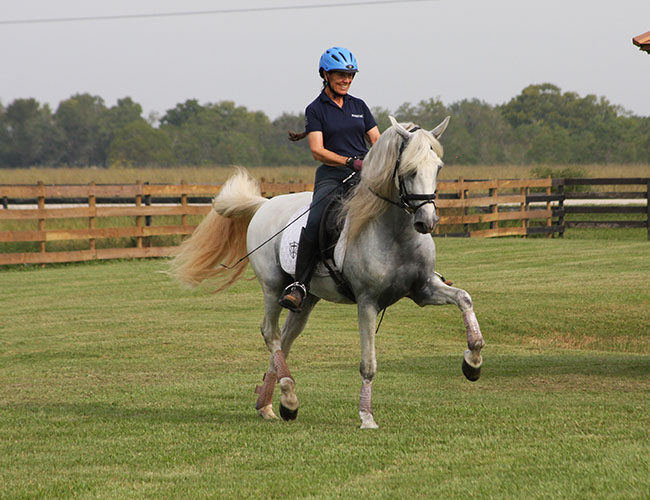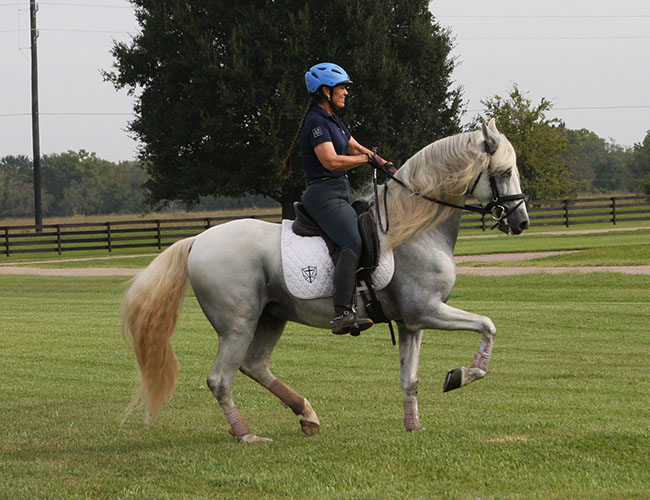 Sir Ivanhoe of England
One of the classiest and highest quality Gypsy Vanner Horses in the United States today. Sir Ivanhoe has been on the front cover of Equine Journal, featured in The Horse Gazette and has been enjoying a very high level of success in the show ring under Pam's tutelage.

photo© LaurieVirkstis.com

photo© LaurieVirkstis.com

Sir Ivanhoe has a spectacular ring presence and is blessed with a wonderful and kind heart.

photo© LaurieVirkstis.com

---

Balakov
A handsome young Hanovarian who won his debut Training Level class and continued his winning ways throughout the 2005 show season with a year end median score of 74.808%...!!

photo© Kelly Smith

His 2005 accolades include:

USDF All-Breeds Award (American Hanoverian Society: 1st Place – Training Level – Open Division
USDF Horse of the Year 2005: 4th Place – Training Level – Open Division
Houston Dressage Society: Reserve Champion – Training Level – Open Division

His owner Lesley Lockart is very proud of her handsome boy!

photo© Kelly Smith

---

Star in Stripes

In the spring of 2006 they traveled to the west coast again for their second show tour to compete at Grand Prix, and after having their first three shows cancelled due to monsoon rains, they were finally able to compete at Meadows of Moorepark where they won the Grand Prix with a score of 70.6%. He and Pam have made a big splash in California showing in international competition for the past 4 years. To date, the pair have won the Great American Insurance Group Open Grand Prix Championship three years running.

photo© 2008 SusanJStickle.com

'Star in Stripes' and Pam continued their winning ways by starting off the 2008 season with a Florida and Midwest tour competing at Wellington, Palm Beach, Paxton and Lamplight where they enjoyed gorgeous weather and great success posting scores in to the 70's! For details about these shows and a peek at the photo scrapbook, visit the newsletter page.

photo© 2008 SusanJStickle.com

---

A Dance with The King - The Gypsy King

Pam was offered the unique opportunity to Dance with a King - 'The Gypsy King' at several public exhibitions.

Pam is excited about a new breed "Gypsy Vanners" being introduced to America. She said of her dance with 'The Gypsy King' who is a breeding stallion ..."he was a perfect gentleman with a huge heart who gave 110% and absolutely thrilled the crowds".

Like her beloved 'Pay N Go', 'The Gypsy King' has also been immortalized as a Breyer® Horse model.

The Gypsy King doing a 'feather raising' Spanish Walk - photo© Gail Honeycutt

The Gypsy King bowing for the audience and his Lady! - photo© Gail Honeycutt